Are you considering a log burner installation? A log burner can make a welcoming and comfortable addition to any home, especially during those chilly winter months. At Home Heating Solutions, we specialise in installing log burners to homes across Stafford, Walsall, and Cannock. Contact us today to learn more!
The Benefits of Log Burners
Log burners offer a host of benefits that make them a worthwhile investment for your home.
Efficient Heating
Log burners are highly efficient heating systems. They can heat a room quickly and effectively, making them a perfect choice for those colder months.
Cost-Effective
With the rising cost of gas and electricity, a log burner can help reduce your heating bills. Using wood as a fuel source can be a cost-effective alternative, particularly if you have access to a plentiful supply.
Environmentally Friendly
As a renewable source of energy, wood burners can be a more environmentally friendly choice compared to traditional heating systems.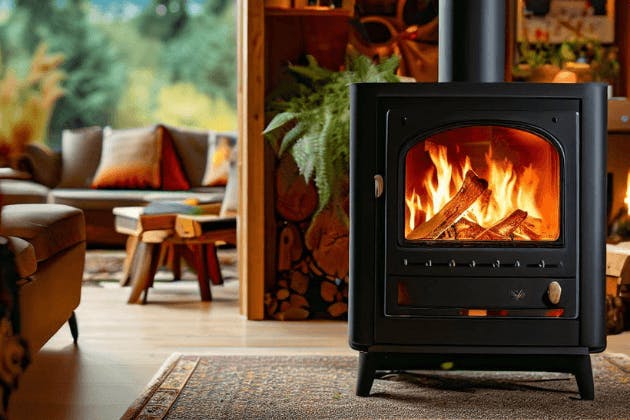 Log Burner Installation Services
At Home Heating Solutions, we provide professional and reliable log burner installation services. We serve the Stafford, Walsall, and Cannock areas, ensuring residents have access to a warm and inviting home environment.
Expert Log Burner Installation
Our experienced team ensures that your log burner installation is carried out safely and efficiently. We adhere to all safety regulations and guidelines, and as a HETAS Registered Installer, we maintain high standards of workmanship.
Aftercare and Maintenance
Once your log burner is installed, we offer aftercare and maintenance services to keep your log burner working at its optimal level. Regular servicing and cleaning can prolong the lifespan of your log burner and ensure it remains efficient.
Remember, the correct installation of a log burner is crucial to its performance and safety. Trust the professionals at Home Heating Solutions to get the job done right. Call us today to discuss your log burner installation needs.
At Home Heating Solutions, we're passionate about creating comfortable, cosy homes with our professional log burner installation services. Serving Stafford, Walsall, and Cannock, we're your local experts for all your heating solutions. Contact us today to schedule an appointment.